Choosing a fork for your mountain bike can be a challenge. With so many makes and models available, it can be hard to tell what makes a good fork.
In this article, we'll go over what you need to look for to spot a good mountain bike fork that suits your bike and riding style.
How to Spot a Good Mountain Bike Fork:
A good mountain bike fork will be made by a reputable company, will provide a number of options for adjustment, and will be well suited to the style of riding it's going to be used for. Additionally, air spring forks will be a better option for the majority of riders.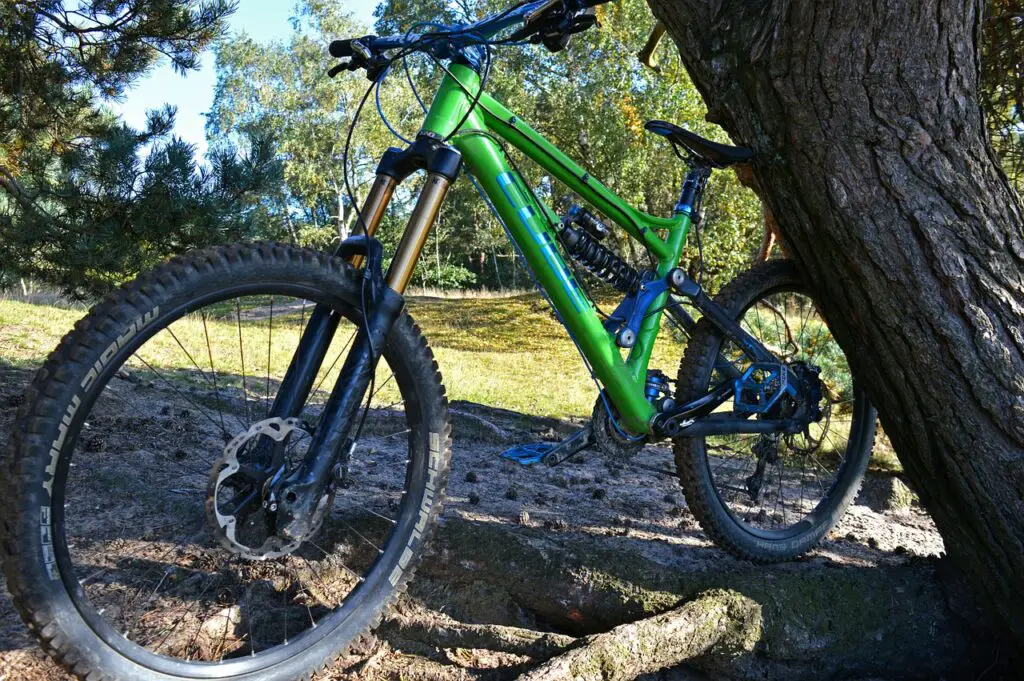 There are dozens of options to choose from when looking at forks for your mountain bike. Since they're such crucial bits of kit, it's important to know what to look for so you can get the best forks for you within your budget.
Ultimately, what counts as a 'good' fork is largely down to how you intend to use it. Provided you're buying from a good manufacturer of course.
Here are the main things to watch out for when you're looking for a new set of forks:
They're made by a good quality brand
They are air spring forks (as opposed to coil springs)
They can be adjusted to suit the rider and terrain
They are the correct size and thickness
Let's look at each of these points in more detail and in the process, we'll hopefully make it easier for you to determine what makes a good fork and which type is best for you.
Good Quality Fork Brands
Good quality doesn't necessarily mean expensive, but if you want a fork that is going to perform well, keep you safe, and last more than 6 months – you'll want to make sure you're buying a set from a decent manufacturer.
Well-known fork makers have a reputation to uphold and have a proven track record as their products are used by thousands or even hundreds of thousands of riders.
Here's a list of some of the big names in MTB forks to look out for:
Fox
RockShox
Manitou
Marzocchi
Cane Creek
DVO
X-Fusion
SR Suntour*
Each of these companies offers forks at a range of price points. As with anything, you get what you pay for, however, every fork maker on this list makes good quality products from entry-level up to their top-of-the-range forks, with the exception of SR Suntour.
We recommend avoiding the low-end products from SR Suntour as they're simply not very good. Suntour has come a long way in the past few years though and some of their higher-priced yet affordable models offer great performance.
Choose an Air Spring Fork
Mountain bike forks come in two main types: Air springs, and coil springs.
An air spring fork uses pressurized air to absorb shocks from hitting jumps or trail obstacles on your mountain bike.
A coil spring fork on the other hand uses a metal (usually steel) coil for shock absorption.
Most MTB forks nowadays use air springs, but there are some coil spring options still on the market.
An air spring is the best option for the vast majority of riders because they are lighter due to using compressed air instead of heavy steel springs and because they allow you to fine-tune them to suit your weight.
Forks need to be adjusted to suit the weight of the rider. There are other adjustment options that are very handy to have which we'll come on to in a moment, but the first adjustment is the pre-loading of the fork.
Preloading is simply how firm or bouncy the suspension is before riding. For example, a 250-pound rider will need stiffer suspension that a 150-pound rider.
If the heavier rider uses forks set up for the much lighter rider, they'll be compressing the suspension too much just by sitting on the bike when stationary. This means they're likely to fully compress the suspension too easily when riding, making it much less effective and making landings from jumps or drops very hard.
The beauty of air spring forks is that they can be fully adjusted to suit the weight of any rider by simply increasing or decreasing the air pressure inside the fork.
The same is not true for a coil spring. Whilst the pre-loading can be adjusted to a certain degree on a coil-sprung fork, it's not by very much as it's a metal spring providing shock absorption.
The only way to suit a coil-sprung fork to your weight is by buying a different coil and replacing it.
Adjustable Forks
We've already covered pre-loading adjustments, but there are a number of other adjustments to watch out for when looking for a good fork.
You can find out the adjustment settings of any fork by asking at the store you purchase them from, or by looking at the specifications section for a particular fork if you're buying online.
Generally speaking, the more you spend on a fork the more adjustment options it will have. Whilst having more adjustment options is nice and can really benefit your ride you should at least make sure any fork you're considering has low-speed compression adjustment.
Low-speed compression is what occurs when you stand up to pedal or turn a corner. Any good shock should have the option to adjust this as it'll let you tune the suspension to suit your preferences when riding
Other adjustments to look out for are:
High-speed compression adjustment: This allows you to change how the forks respond to things such as hitting rocks or roots on the trail, as well as how the fork compresses when landing from a jump or drop-off.
Rebound adjustment: This type of adjustment lets you alter how quickly the fork extends after being squashed.
In summary, a good fork should definitely have low-speed compression adjustment. High-speed compression adjustment and rebound adjustment are very nice to have but typically come at a higher cost. Therefore you should look for a fork with the most adjustment options within your budget.
Choose a Fork that's the Right Size
This last point on our list of how to choose a mountain bike fork is based on the style of riding you're most interested in.
Modern forks typically come in diameters of 32, 34, 36, 88, and 40mm. The larger the diameter, the stiffer and heavier the fork will be.
Stiffer forks are required for riding over more rugged terrain which results in more impacts on the bike. You won't need to go as high as 40mm unless you've got a full-blown downhill bike but if rocky trails and big jumps are your thing you're probably best off with 36mm – 38mm thick forks.
If you like riding smooth trails and don't hit very big jumps, 32mm or 34mm forks should be plenty stiff enough and will save you weight and even a bit of cash.
Conclusion
Selecting the best suspension is largely a question of personal preferences and riding style.
That said, hopefully this list of what to look out for in a good mountain bike fork will help you choose the best fork for you.