In the past road bikes were the super cars of the cycling world, demanding a premium when compared to their simpler mountain bike counterparts. But with all of the advances in mountain bike technology, are road bikes now cheaper? Let's take a look.
Road Bikes vs. Mountain Bikes – What's Cheaper?
Road bikes AREN'T cheaper than mountain bikes in general. Entry level road bikes from reputable brands are typically 40% – 80% more expensive than an equivalent mountain bike. In terms of high end bikes, there is little difference in price between road bikes and mountain bikes.
Road Bike vs. Mountain Bike Price Comparison
In order to determine which is cheapest, we decided to analyze the price of road bikes and mountain bikes from 3 reputable brands (Cannondale, Specialized, and Trek). We had to consider different price points as the results for low spec bikes were different than high spec bikes.
The results are presented in the table below, you may find them surprising! The 'Low End' section of the table compares the entry level bikes of each manufacturer, whilst the 'High End' section considers the flagship offerings. E-bikes were left out of this analysis.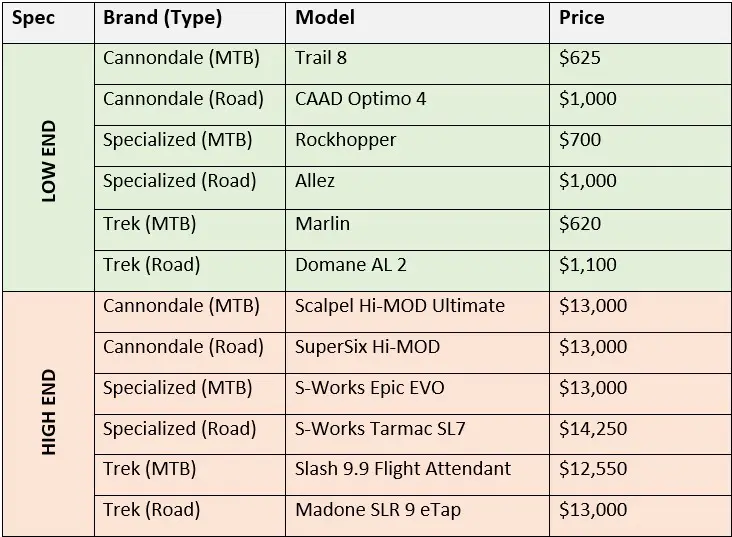 What's the price difference between ENTRY LEVEL road bikes and mountain bikes?
From the table it's clear that for each of the 3 bike manufacturers considered, the entry level road bikes are more expensive than their mountain bike equivalents.
The price difference varies for each bike maker from Specialized with their entry level Allez road bike costing 43% more than their Rockhopper MTB, compared with Trek's entry level road offering (Domane AL 2) coming in at 77% more expensive than the Trek Marlin 4!
It's worth mentioning that the cheapest mountain bike on offer from each manufacturer is a hardtail. The cheapest full suspension bikes were considerably more expensive from the lowest cost (Trek EX 5 Deore) costing $2,450, up to $2,650 for the Specialized Stuntjumper Alloy.
What's the price difference between HIGH SPEC road bikes and mountain bikes?
Now we get to the eye watering end of the table! These high spec bikes are for the truly dedicated riders willing to spend more on their bikes than many people do on a car! Let's dive into the prices.
The high end Cannondale bikes are equivalent in price at $13,000 each for the SuperSix Hi-MOD road bike and the Scalpel Hi-MOD Ultimate MTB. In the case of both Specialized and Trek, the top spec road bikes comes out slightly more expensive than the mountain bikes.
The S-Works Tarmac SL7 comes in $1,250 more than the S-Works Epic EVO, meaning the road offering is 9.6% more expensive. Don't get me wrong, $1,250 is a significant amount of money, but when considering the price difference of 43% between the entry level Specialized bikes 9.6% doesn't seem too bad!
The price difference for the high end Trek bikes is even less, with the road offering (Madone SLR 9 eTap) costing 'only' $450 more than the Trek Slash 9.9 Flight Attendant. Again, $450 isn't insignificant, but this represents a price difference of only 3.6%.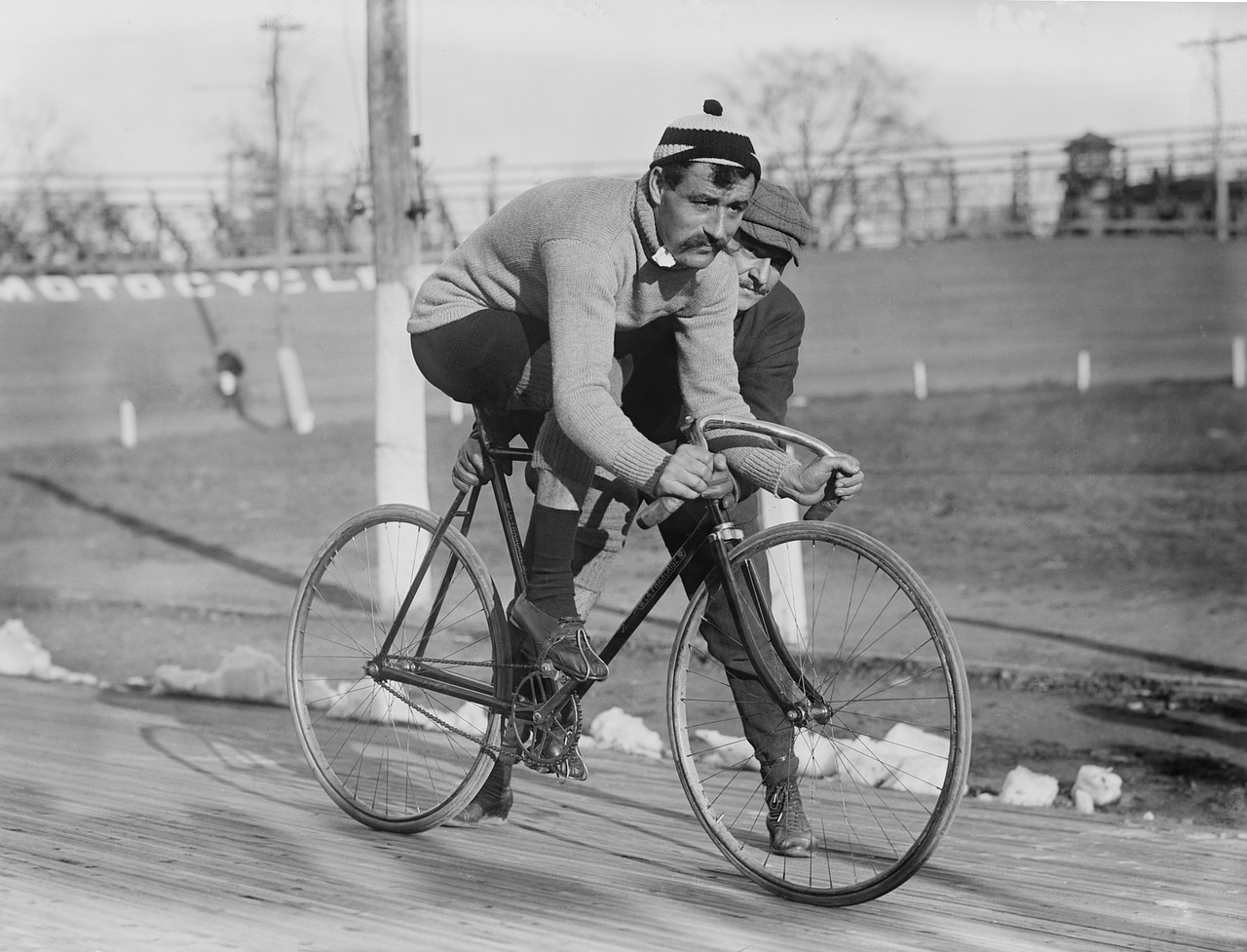 Why are entry level mountain bikes CHEAPER than equivalent road bikes?
The reason for differences in price of road bikes and mountain bikes comes down to the bikes functionality, features, and rider demographic.
For a mountain bike to be 'good enough' to get started the frame needs to be durable enough to handle the demands of off-road riding, the forks need to provide sufficient travel and the brakes need to be reliable, even in wet/muddy conditions.
So, provided a mountain bike has a solid frame with a decent set of disk brakes and entry level front suspension from a good brand (like Fox), the bike is going to perform well enough for a beginner or somebody looking for a general purpose bike.
Road bikes on the other hand have a slightly more focused clientele. There's typically more emphasis on performance even at the lower end of the road bike spectrum, and in particular on weight saving.
Take the entry level Trek bikes for example. The Domane AL 2 has a lightweight aluminum frame accompanied by Trek's IsoSpeed carbon fork which comes at a higher cost of production than the SR Suntour XCE 28 forks on the Marlin 4. Add in the additional aerodynamic design considerations and the price difference begins to make sense.
Now consider the demographic of road bike riders vs. MTB riders. People buy entry level mountain bikes for all sorts of purposes. Aside from getting into mountain biking, they are a common choice for those looking to cycle every now and then for general fitness or enjoyment.
The average road bike rider is a little older likely with more spare cash. When was the last time you saw a group of teenagers riding around on road bikes? Now compare that to mountain bikes. I know for sure that mountain bikes are way more common where I live for the younger rider or average Joe looking for a general purpose bicycle.
Younger riders and general cyclists are less likely to want to part with their hard earned cash than a bike enthusiast. The bike manufacturers reflect this in their entry level offerings.
It's also worth mentioning that road bikes have been around much longer, allowing more time for innovation and investment. The first mountain bike was the Breezer 1 built in 1977. In contrast, the first Tour de France was held in 1903. This illustrates how much longer road cycling has existed as a mainstream concept vs. off-road cycling.
Why are high end road bikes and mountain bikes similarly priced?
In the past the price of a high end road bike completely dwarfed that of all the mountain bikes on the market, however in the past decade or two this price gap has closed rapidly to the point it is now almost non-existent.
The reason for this is that the market for high end mountain bikes has increased exponentially, with more sales there is more investment in innovation of high tech features which ultimately demand higher sales prices for those top end mountain bikes on the market today.
Should you buy a road bike or a mountain bike?
This one's easy! If you're looking to get into road biking or you don't mind spending a little extra for the more efficient bike to get you to and from work on the road, buy a road bike.
If you want to hit off-road trails, want a general purpose bike where you're not limited by the terrain, or just want a cheaper (yet slightly slower) means of getting to and from work, buy a mountain bike.
Final Thoughts
Road bikes are still generally more expensive than mountain bikes, particularly at the entry level. The price gap narrows as the spec of the bike increases due to the ever improving high tech features available on mountain bikes.